Here are some fall wedding tuxedo ideas to consider. First of all, wall weddings provide an opportunity to incorporate rich and warm colors, textures, and accessories into your tuxedo ensemble.
Remember to choose a tuxedo that fits you well and complements your personal style. It's also a good idea to coordinate your attire with your partner's outfit and the overall wedding theme.
When selecting a tuxedo to complement a fall wedding gown, it's important to consider the style, color, and overall aesthetic of the dress. Here are some tuxedo ideas that pair well with different types of fall wedding gowns.
---
Here our our top 5 Fall Wedding Tuxedo Ideas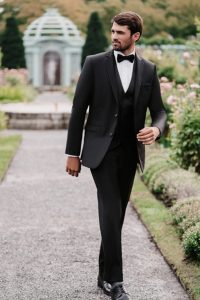 Top of the line ultra black wedding suit by Allure Bridals with optional black 5 button vest. This stylish men's black suit rental is available in slim fit and modern fit so we can fit all body types. This beautiful suit fits like a dream and looks quite sophisticated since it has edging detail on the notch lapels.  I saw a Gucci suit in Bangkok a little while back that looked exactly like this.   This back suit is not like a typical boring black suit.  This style has the lines and cut that everyone wants.

Beautiful Navy Blue Tuxedo with single button peak lapel, shown with white lay-down collar tuxedo shirt with no pleats and skinny, black satin dress tie.  Same tuxedo as model # 163, but without the vest or bow tie.

Classic Black Tuxedo: A timeless choice that never goes out of style. Opt for a well-tailored black tuxedo with a crisp white shirt and a black bowtie. You can add a pop of fall color with a boutonniere featuring seasonal flowers or foliage.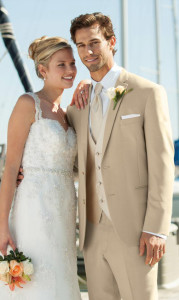 Beautiful tan colour suit, shown with white dress shirt and cream dress tie. This suit also comes with a matching vest, as shown in the gallery images.  The gallery images show this awesome suit with the matching vest and the ivory deluxe satin dress tie.  This suit is perfect for garden or beach themed weddings as shown in the gallery images when we wear it with the sage color dress tie. This matching pants for this suit are available in "slim" and "ultra slim" fit, so you'll be sure they are not going to be baggy on you.

Linen Gray Wedding Suit by allure bridals. Shown with a variety of alternative ties, matching gray vest, white dress shirt and deluxe satin dress tie.
---
Remember to consider the bride's input and coordinate your attire with her overall vision for the wedding. It's essential to select a tuxedo that enhances the overall aesthetic and creates a cohesive look with the bride's gown.
These are some of our most popular tuxedo ideas for fall weddings. If you are still not sure what you want, come see us at The Gentlemen's Tuxedo club located in Downtown, San Diego. Our friendly staff is very knowledgeable and can help you with all of your wedding tuxedo needs.